Why Companies Choose AppleOne?
Retention is the Indicator of Hiring Success 
The shifting workforce has revealed an increased priority for employers to add to their value proposition for employees. Adding value starts in the hiring process by focusing on factors for retention, not just hiring speed.
Step 1: Position Benchmarking
Step 2: Employer Value Proposition
Step 3: Interviewing for Retention
Step 4: Secure Onboarding & Engagement Support
of working employees are open to new opportunities when contacted by a recruiter.12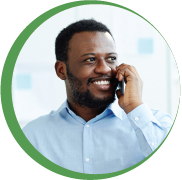 Value Stack
Value Stack
Virtual Agility
Virtual interviewing technology
Remote team leadership consulting and tools
Work-from-home equipment rental resources
Secure data environment
Accountability
Corporate social responsibility programs
Client-specific diversity and inclusion alignment
ISO and IMAGE certifications
Government solutions capability
Ongoing training and certified recruiters
Leverage Expertise
57 years of national tenure in your industry
High performer benchmarking and engagement expertise
Emotional intelligence (E.Q.) interviewing
Recruitment marketing
Upskilling
Preparing tomorrow's leaders through relevant work internships
Benchmarking key traits and abilities
Skills testing and tutorials for candidates
Engagement Strategy
Placement retention procedures
Onboarding assistance
Coaching and recognition for employees
Tracking worker happiness and customer satisfaction
We can help with how to approach your own value stack in your hiring process.